The August House
Welcome to The August House, a year-round, 11-room boutique inn and gathering space located in Windsor, Nova Scotia, at the intersection of the Avon and Annapolis Valleys. Connection is what this property is built for, so whether you're here for a solo night away, a stay with your dearest, a Valley wine tour with friends, a team offsite planning session, or a 65-person wedding, you'll find our rooms and gathering spaces invite you to (re)connect to life's goodness at every turn.
We are low-touch, high vibe. You will feel our hospitality every step of the way (with plenty of delight layered in!), but with contactless check in – that means no front desk and freedom to come and go according to your own travel schedule – you can move through your stay on your terms.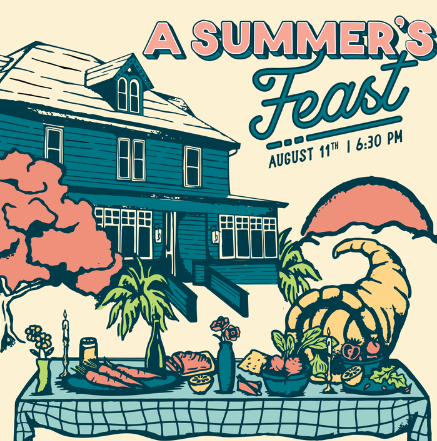 August 11: The Bite House
Chefs Bryan Picard from The Bite House and Joe Martin from Loner Pasta Co. are popping up at TAH!
Book Now!
Meetings and Retreats
Team off-sites with heart, soul, good vibes…and soft seating. Slippers highly encouraged.
Learn More
2023 Weddings
From petite to mid-sized gatherings, August House weddings maximize togetherness.
Plan Your Wedding
TAH is magic!
TAH is magic! We stayed two nights in adjoining rooms and it was cozy and welcoming. The generous hosts have thought of everything, from self serve espresso, fridge and ice, comfy beds, cool common areas, beautiful design and delicious breakfasts. Thank you for your kindness. We'll be back!
Natalie, Nova Scotia (5-Star Google Review)
Can't wait to return
Have you ever been to a place and instantly felt warm, safe and relaxed? That's what it's like at The August House – a home away from home. Their hospitality and graciousness are delightful, and the inn is a lovely mixture of cozy and chic.
Gillian, Nova Scotia (5-Star Google Review)
Attention to details
One thing that really stood out to us during our stay was the attention to detail that the staff put into everything. From a hand written welcome note in the room to the delicious homemade breakfast in the morning , it was clear that every aspect of our stay was carefully thought out and executed with care.
Aaron, New Brunswick (5-Star Google Review)
A beautiful stay
Our world has changed so much in the last few years, and it's been hard to not lose faith in the greater good…The love and attention and little details at the August House reminded me of what it feels like to care about and for one another. The cookies, the alcohol-free wine, the handwritten note, the bath salts, the high quality coffee… all of these little personal touches meant SO MUCH!
Tiffany, Nova Scotia (5-Star Google Review)
Surprise and delight
Photos don't adequately showcase the charm and warmth – not even close. We felt at home immediately. More than the (stunning!) spaces, including the most comfortable bed, huge custom shower, and sitting room with wet bar – there is a special energy to this place that is uniquely personal and impossible to describe. Look forward to coming back soon!
Tracy, New Brunswick (5-Star Google Review)
Straight out of a magazine
The August house is straight out of a magazine. The owners thought of every single impeccable detail. The rooms are huge, the beds are super comfortable, and the atmosphere is a delight at every turn.
Katie, New Brunswick (5-Star Google Review)
An amazing GEM
What an amazing GEM of Nova Scotia! The August House team has done a beautiful job of balancing contemporary and modern design, while holding true to the historic character of the building and all it's wonders!! Was the perfect location for our Team Strategy session and The August House team made our stay SO comfortable and productive. A definite 'must stay' if you're traveling through Nova Scotia!!
Andrew, Nova Scotia (5-Star Google Review)